If you have questions about or need to update your order, the quickest way to resolve your enquiry is to contact a relevant Seller (the small business who made your order). You can do this by following one of the options below:
Registered Account Users
If you have a registered account, please follow this link to the 'my orders' section of your account and click the Contact Seller button attached to your order.
Please be sure to add donotreply@notonthehighstreet.com to your email inbox, as responses from the seller will come from here and from time to time may land in your Spam/Junk folder.
Guest Users
If you have completed your order via Guest Checkout, you can contact the Seller by your Order Summary Page located within your order confirmation email.
Simply locate your order confirmation email and here you'll find a link to your personal order summary page.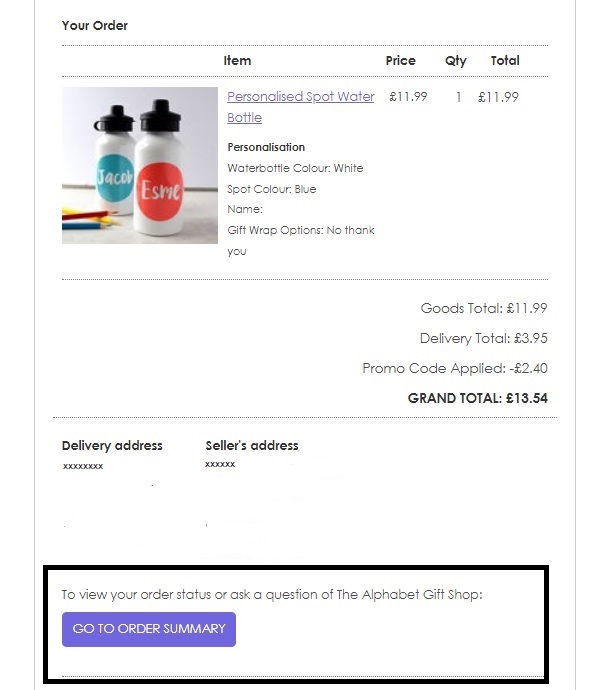 On your order summary page you will see a Contact Seller button located at the top. Click this link to begin contacting the seller.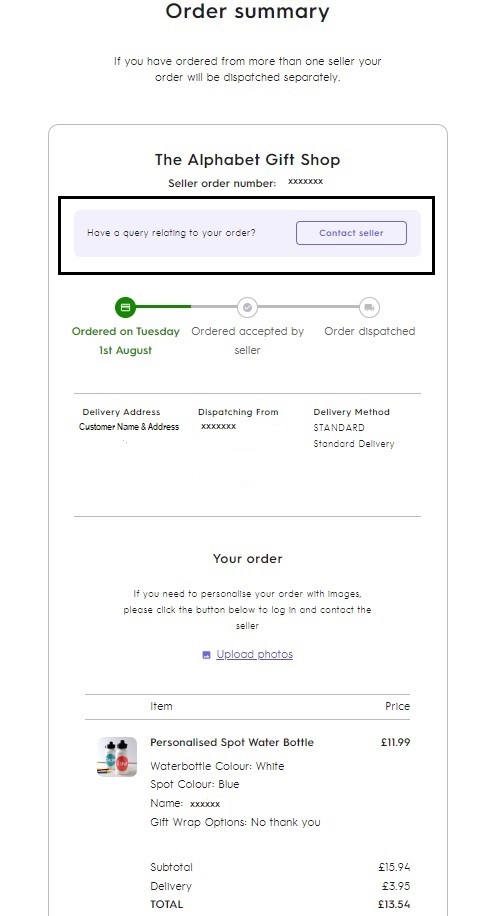 Once you click the Contact Seller button you will be prompted to log in, if you are already a registered customer or to create a new account.
We highly recommend logging into your account, as this will automatically connect your guest order to your order history or registering a new account, as this will make future communications between yourself and the seller much easier and you will be able to upload photos etc.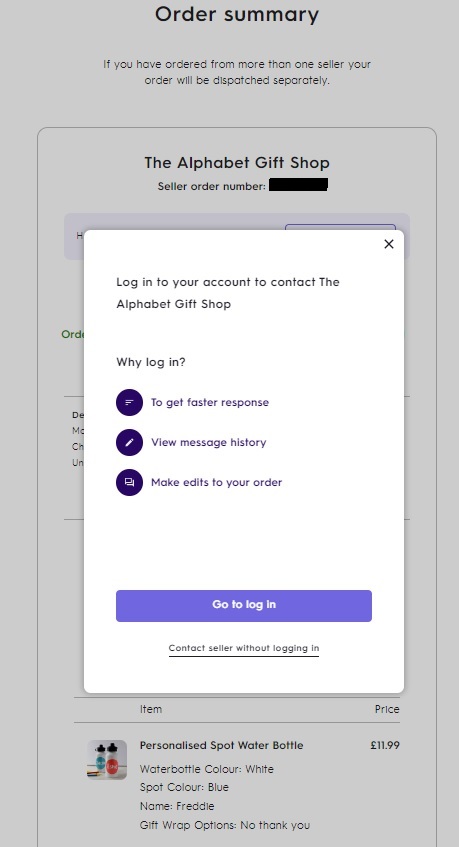 Contacting a Seller without registering an account
Please note: If you need to upload photos to your order, you will need register a new account or log in to your existing account by following the above steps.
Within your order confirmation email, click the link on the relevant product that you wish to contact the seller regarding your order.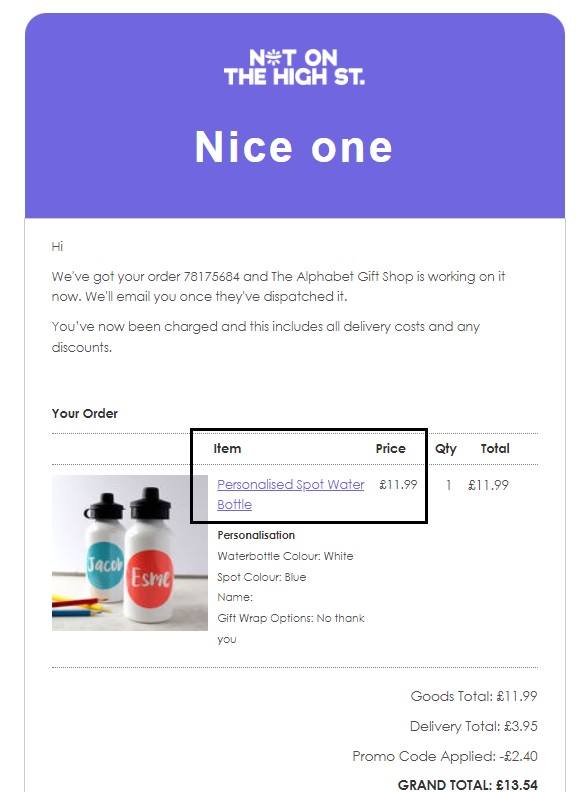 Once you have clicked the link, this will take you to the relevant product page. From there scroll to the bottom of the page, where you find the sellers store information and contact seller link. Click on the contact seller link to start your conversation with the seller.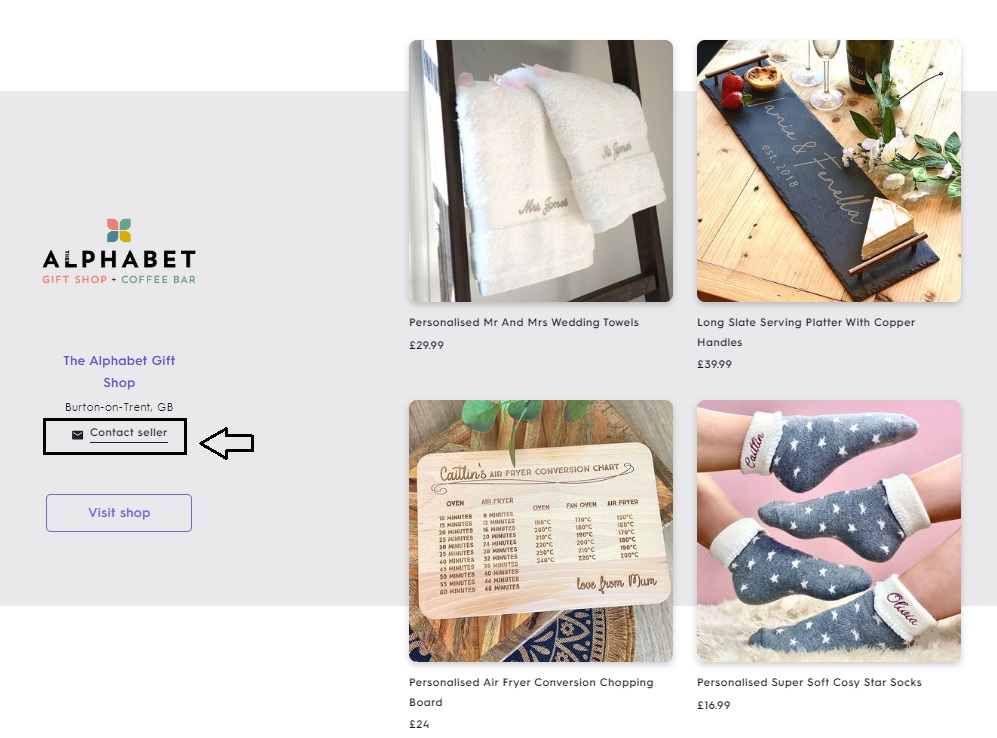 Once you have clicked on the contact seller link you will be presented with a message box where you can contact the seller with your enquiry. Please ensure you include your order number, so that the seller can quickly identify what your enquiry relates to.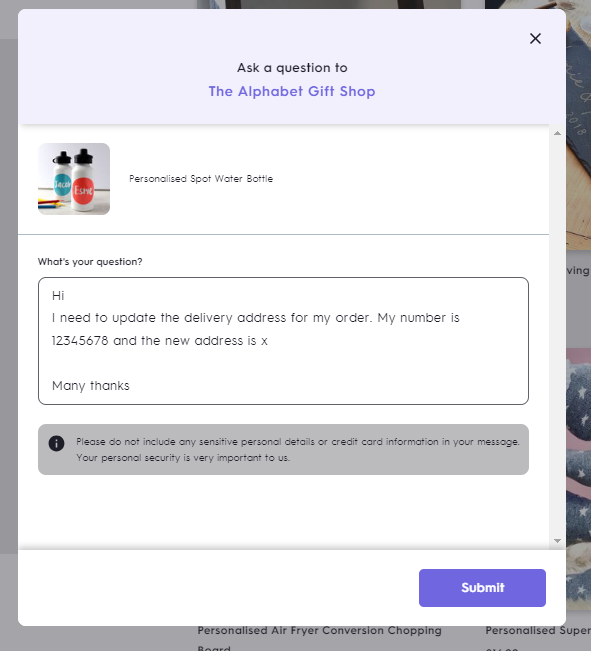 Our sellers aim to respond to customer enquiries within 24 hours but please note that contacting the seller via this method may cause a delay to the processing of your order.
Response time from the seller
Our Sellers should respond within 24 hours to order enquiries but response times may vary depending on their own working hours.
How to contact a Seller with a question about a product
If you have not made a purchase but have a question about a specific product, you can find information here on how to contact the seller with your question. You should receive a response to your product enquiry within 48hrs. Please note, we do not hold any additional information regarding any of the items sold by our sellers.
If you didn't find what you were looking for here, you may wish to visit our FAQ's where you can find lots of helpful articles.